丁丁关注---ken wilber
回答网友"未来之光":上世纪九十年代,我介绍过这位思想者(用他们自己的语言就是"精神探索者"),他的名字:Ken Wilber,有许多文集,影响了许多思想者,包括我。以致,从海外回国的行李箱的宝贵空间里,我专门带了他的一本文集。我多次介绍他的看法——在关于梦的研究、东方冥想方法、以及唯识哲学等方面。不论如何,下面是他的照片,可能是近照,但他是居住在大森林里面的: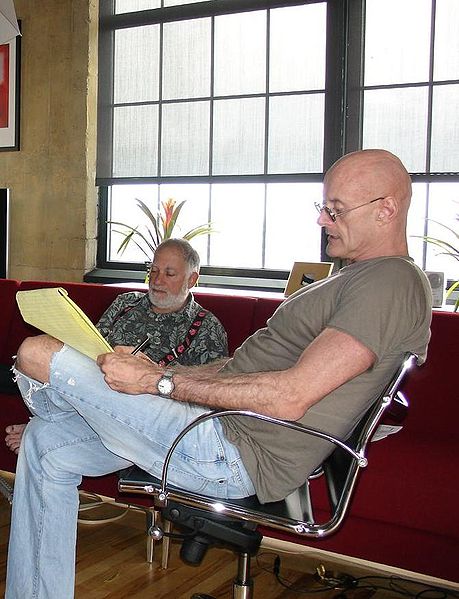 他有瑜伽师的证书,我记得是"五级",很高了。
Ken Wilber was born on January 31, 1949 in Oklahoma City, Oklahoma. In 1967, he enrolled as a pre-med student at Duke University, and almost immediately experienced a disillusionment with what science had to offer. He became inspired, like many thousands of others of that generation, by Eastern literature, particularly the Tao Te Ching. He left Duke, enrolled in the University of Nebraska at Omaha, and completed a bachelor's degree with a double major in chemistry and biology.
In 1973, Wilber completed his first book, , and he spent a year giving lectures and workshops before going back to writing. He also helped to launch the journal ReVision in 1978.
In 1982, New Science Library published his anthology The Holographic Paradigm and other Paradoxes a collection of essays and interviews, including one by David Bohm. The essays, including one of his own, looked at how the model of Holography and the Holographic paradigm relate to the fields of consciousness, mysticism and science.
In 1983, Wilber married Terry (Treya) Killam who was shortly thereafter diagnosed with breast cancer. From the fall of 1984 until 1987, Wilber gave up most of his writing to focus on caring for her. Treya died in January 1989; their joint experience was recorded in the 1991 book Grace and Grit.
Subsequently, Wilber wrote Sex, Ecology, Spirituality (SES), (1995), the massive first volume of his Kosmos Trilogy. A Brief History of Everything (1996) was the popularised summary of SES in interview format. The Eye of Spirit (1997) was a compilation of articles he had written for the journal ReVision on the relationship between science and religion. Throughout 1997, he had kept journals of his personal experiences, which were published in 1999 as One Taste, a term for unitary consciousness. Over the next two years his publisher, Shambhala Publications, released eight re-edited volumes of his Collected Works. In 1999, he finished Integral Psychology and wrote . His book, Boomeritis (2002), is a novel which attempts to expose what he perceives as the egotism of a generation born between 1945 and 1964, collectively known as the "Baby Boom Generation", "Baby Boomers" or "Boomers" for the booming number of births that took place during those years.
From 1987, Wilber lived in Boulder, Colorado, where he worked on his Kosmos trilogy and oversaw the work of the Integral Institute. Wilber now lives in Denver, Colorado.
Wilber's holism
A key idea in Wilber's philosophical approach is the holon, which came from the writings of Arthur Koestler. In considering what might be the basic building blocks of existence, he observed that it seems every entity and concept shares a dual nature: as a whole unto itself, and as a part of some other whole. For example, a cell in an organism is a whole and at the same time a part of another whole, the organism.
Another example is that a letter is a self-existing entity and simultaneously an integral part of a word, which then is part of a sentence, which is part of a paragraph, which is part of a page; and so on. Everything from quarks to matter to energy to ideas can be looked at in this way.
In his book Sex, Ecology, Spirituality: The Spirit of Evolution, Wilber outlines approximately twenty tenets that characterize all holons. These tenets form the basis of Wilber's model of manifest reality.
Levels or stages
The concept of levels follows closely on the concept of lines of development. The more highly developed you are in a particular line, the higher level you are at in that line. Wilber's conception of the level is clearly based on several theories of developmental psychology, including: Piaget's theory of cognitive development, Kohlberg's stages of moral development, Maslow's hierarchy of needs, Erikson's stages of psychosocial development, and Jane Loevinger's stages of ego development.
One such scheme describes the ethical developmental line, for example:
Within each broad stage, there are sub-levels. [url=href="http://en.wikipedia.org/wiki/Spiral_Dynamics'title='Spiral'target='']Spiral Dynamics(2000). In
A Theory of Everything
Wilber attempts to bridge business, politics, science and spirituality and show how they integrate with theories of developmental psychology, such as [url=href='http://en.wikipedia.org/wiki/Spiral_Dynamics'title='Spiral'target='']Spiral Dynamics, in which he sought to integrate knowledge from disparate fields. After rejections by more than twenty publishers it was finally accepted in 1977 by [url=href='http://en.wikipedia.org/wiki/Quest_Books'title='Quest'target='"]Quest Books
推荐 15
  财新博客版权声明:财新博客所发布文章及图片之版权属博主本人及/或相关权利人所有,未经博主及/或相关权利人单独授权,任何网站、平面媒体不得予以转载。财新网对相关媒体的网站信息内容转载授权并不包括财新博客的文章及图片。博客文章均为作者个人观点,不代表财新网的立场和观点。